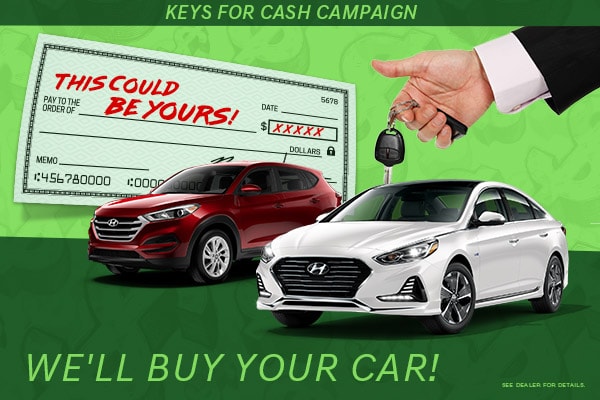 You Can Buy, Sell and Trade at Terry Reid Hyundai
At Terry Reid Hyundai, we recognize that consumers are not just interested in buying and trading cars but selling as well. This is why we recently have started a car-buying program - Vehicles for Cash - that is centered on you and what your vehicle is truly worth.
Do you want to maximize the amount of money you can make on your current vehicle in less than 30 minutes? Drive it on over to Terry Reid Hyundai in Cartersville, GA. We will give you an up-front offer that you will not want to refuse. Plus, when we find your vehicle a new home, we will give you 50% of the profit* we make on the vehicle.
Terry Reid Hyundai is your lone Hyundai dealer in Cartersville, GA, so we are the sole showroom in which you can buy a top quality Hyundai vehicle in the local area. With 18 years in business and counting, we are a family-owned car dealership that treats its customers as one of their own. Visit us today, and prepare to experience true car care with a friendly flare of customer service and essential expertise.



After you have told us about your vehicle via the form below and we have contacted you, bring it to our showroom. One of our Certified Appraisers will look over your vehicle to verify its condition, features, and other information.
Once the inspection has been completed, we will then give you a strong, competitive offer so you can have peace of mind in knowing that you are getting the greatest value for your set of wheels.
This offer is not the only way you hit the jackpot here at Terry Reid. Time is also very much on your side. When you receive your offer, we can then complete your transaction in 30 minutes. To receive a check for your offer, please bring your vehicle's title with you.
That's not the final check you will receive. When we sell your vehicle to another customer, we will split the profit* with you 50/50. Yes, two checks for one vehicle!
*Profit does not include costs related to the reconditioning, marketing, and/or repair of the vehicle.